About Us
The origin of Brewer Lofgren LLC began in 2005 at 9,000 feet above sea level while hiking the Sierra Buttes. Roy Brewer and Martha Lofgren, each with decades of experience in land use and public policy, started to visualize a business that offered much more than the typical land use advice and representation.
Armed with a highly complementary set of skills and experience, Roy and Martha started a firm able to scale seemingly insurmountable issues with persistence, strategic thinking and teamwork. As Folsom's former city manager and city attorney, Martha brought deep understanding of the public perspective. As a land use advocate with decades of experience and community leadership, Roy possesses exceptional skill at deflecting conflict and gaining consensus.
Today, the firm provides representation and strategic advice on all aspects of large, complex and controversial projects that involve a combination of land use advocacy, political strategy, economic redevelopment, brownfield properties, public financing, permitting, rezoning and infrastructure development. Our projects get approved quickly with practical solutions and lower costs—and we've never lost a project. In our first decade, we've had 57 successes in 57 attempts; 49 project approvals, 49 by unanimous vote, in 16 different jurisdictions; various agreements with public agencies, strategic planning with public agencies, and due diligence in an additional 11 jurisdictions in different northern California jurisdictions. We are now pursuing distinctive projects in the Boise metropolitan region that will benefit from this track record of success.
Nobody is better prepared to help clients and public agencies find a way to "yes."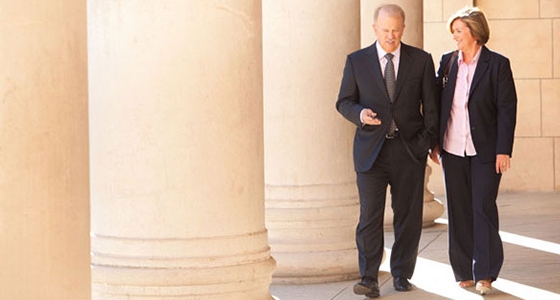 In the years since that fateful day on the Sierra Buttes, Roy Brewer and Martha Lofgren have continued to demonstrate their distinctive approach and teamwork by pursuing annual excursions, such as their 2010 summit of Mt. Whitney along the challenging Mountaineer's Route.
Roy Brewer has been one of the leading land use representatives in the Sacramento area for approval of complex multi-use projects on brownfield properties since 1984. He has served as a legal advisor, negotiator, political strategist, project manager and advocate for many controversial, high-visibility projects, and has successfully negotiated with regulatory agencies in more than 40 jurisdictions in three states. Roy is well known for helping his clients manage their multi-disciplinary consultant teams, and is proactive in deflecting conflict and gaining consensus both from public officials and stakeholders.
Martha Lofgren specializes in advocacy before government agencies on land entitlement, contract negotiation, regulatory issues, transportation funding, affordable housing and economic development. She brings a unique blend of practical experience to each client matter gained from the depth and breadth of her experience required of a city manager and a city attorney. Her twelve years of executive-level municipal government service is complemented with representation of large public and private companies on land use, mining and public/private partnerships.
More…